System Requirements
TruePianos system requirements vary, depending on which TruePiano module is used. The future updates to TruePiano Core engine will most likely affect these requirements. Below are estimations based on the current version of TruePianos.


Windows minimum requirements
Mac minimum requirements

| | |
| --- | --- |
| - | Windows XP SP2 or newer |
| - | 2.0 GHz Intel Core Duo or multi-core AMD CPU with SSE2 support |
| - | 256 MB of free RAM |
| - | VST or RTAS host (e.g. SONAR, Cubase, ProTools) |
| - | Soundcard with proper ASIO drivers |

-
Mac OS X 10.6 or newer
-
Intel based Mac *
-
256 MB of free RAM
-
AU/VST/RTAS host (e.g. Logic, Cubase, ProTools), 32- and 64-bit supported
* As of 2011, PowerPC Macs are no longer supported.

To use TruePianos with all features enabled, the following minimum configuration is recommended:
Windows recommended
Mac recommended

| | |
| --- | --- |
| - | Windows 7 64-bit or newer |
| - | 2.2 GHz Intel Core2Duo or faster |
| - | 512 MB of free RAM or more |

| | |
| --- | --- |
| - | 2.2 GHz Intel Multi-Core based Mac |
| - | 512 MB of free RAM or more |

Supported hardware VST players

| | |
| --- | --- |
| - | Muse Research Receptor 2 models (OS 1.8) |
| - | Muse Research Receptor models (OS 1.7 / 1.8) (for older modules) |
Basic Screen
This is a short overview tour of TruePianos with screen shots. The front graphic interface looks like this: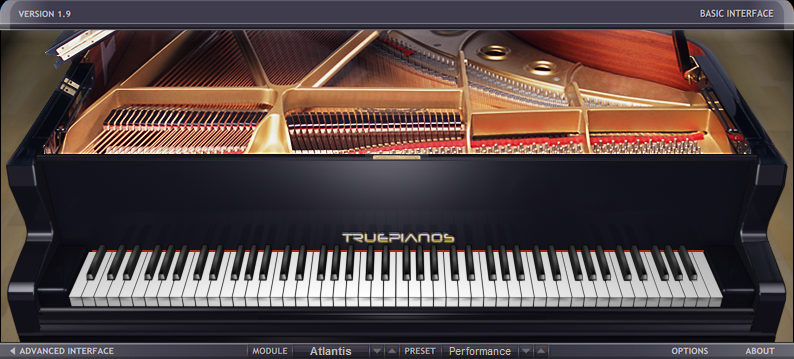 The piano keyboard (which reacts to your mouse as well), basic controls, Options and About buttons, as well as a functionality to switch to a different piano module and a preset. TruePianos consists of multiple modules and presets. Each module represents a significantly different variant of a piano sound, while presets change the piano character without affecting basic properties of the piano. The hierarchy is as follows:
Module A

Preset 1
Preset 2
...
Preset n

Module B

Preset 1
Preset 2
...
Preset n

Module C

Preset 1
Preset 2
...
Preset n
Advanced Screen
Clicking the advanced interface button or interface header - will bring the advanced interface up: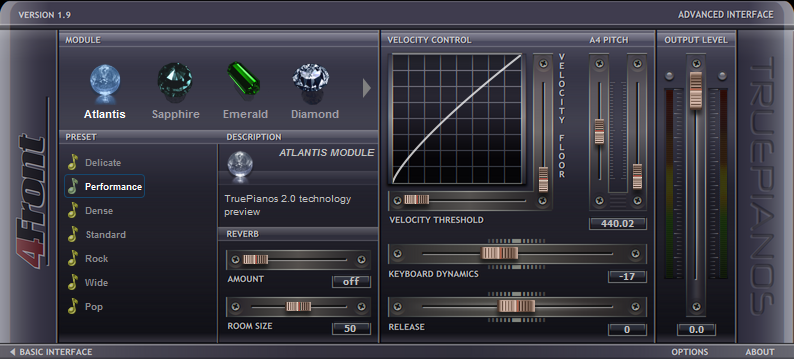 Here you can see the advanced preset selector, and as well sliders to control individual parameters of the instrument sound such as keyboard sensitivity, dynamic response of the piano, release time of notes, tuning and volume.
Options Screen
You can access the options screen by clicking Options button in the lower right corner of the interface. Also, when the software is started for the first time, you will see the Options screen. Do not quickly pass by. Your further piano experience depends on how well you set up the dynamic response of your keyboard.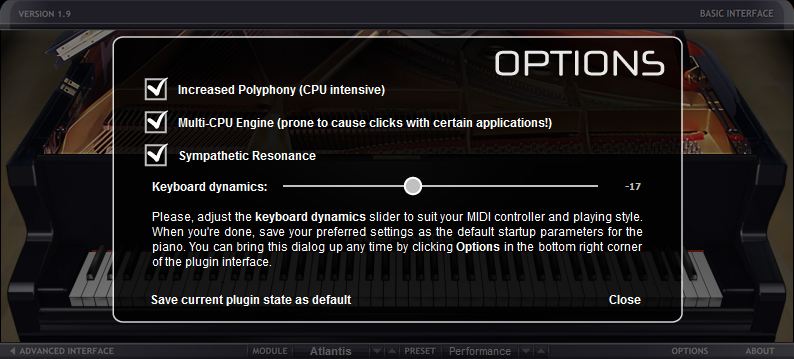 For my CME UF8 keyboard I find values -20...-17 to be close to optimal for my playing style, for Yamaha keyboard the slider should be around zero. Please tune it to match your keyboard - just keep playing, and if it plays too difficult - move the slider to the left, otherwise if the notes come too bright, move the slider to the right. When you are finished, press 'Save current plugin state as default' and then 'Close'.
Additionally, there are options to turn on Sympathetic Resonance, Increased Polyphony mode, or turn on support for multi-core processors. Note, that certain applications (such as Cakewalk SONAR, Cubase, Logic) have their own way of handling multi-core processors, which, depending on your setup, may not work very well together with TruePianos multi-core support turned on. Since nobody has yet defined a standard of how the processor load should be managed on multi-core audio workstations, we invite you to check these options and find the best balance of quality vs performance on your system.
The Sound
Please visit our demos page to listen how TruePianos modules sound.